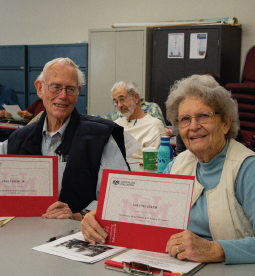 The Osher Lifelong Learning Institute at the University of New Mexico brings the challenge and excitement of university learning to adults age 50 plus who want to explore stimulating and fascinating subjects. All of the traditional disciplines are offered, as well as new areas of research and study.
When you make a donation to OLLI, you gift helps offset the cost of providing Osher classes and events, marketing, printing of the catalog and other promotional materials, website maintenance and support of our registration function.
While the price of the OLLI membership remains low, the value of OLLI remains high with benefits including free member events and discounts and a complimentary Community Borrower's Card from the UNM Library system. If you believe in the value of OLLI, please join us in making a gift or a pledge to the Osher Lifelong Learning Institute (OLLI) at the University of New Mexico.
Your tax-deductible donation will sustain a vibrant learning community now and in the future.
Corporate Sponsorship
Partnering with OLLI is a great opportunity to raise awareness of your brand. As a Corporate Sponsor, you will be listed in the spring and fall catalogs, and on our website, reaching current members, past participants, UNM alumni, instructors, supporters, and community members. We welcome your exclusive sponsorship of special events or popular courses and we invite you to associate your business directly with a relevant member activity. We will proudly recognize our sponsors in all of our marketing and social media efforts.
To become a sponsor, please contact Maralie Waterman, Program Manager at maralie@unm.edu or (505) 277-6179.
Thank you for your support!