Substance Abuse Studies @UNMCE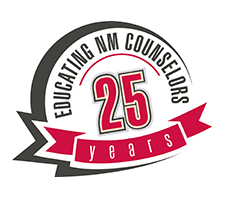 UNM Continuing Education's Substance Abuse Studies courses are NAADAC approved. Contact hours or professional training hours are applicable for most behavioral health and social work credentials or licenses.

We are currently accepting enrollment for the 2018-2019 year. Approval for the Substance Abuse Studies program is required but can be completed quickly. Enrollment is on a rolling basis. To apply, please review the Guide for Approval.

There are a total of 20 courses of professional training. You may enroll in as many courses as you need or want. You will need to enroll by phone for one or more courses. Individual courses are $155.00. You are able to enroll course by course or for the complete certificate. Course certificates will be available online at the end of the course exit exam. Master Certificates will be available by request to the Program Supervisor.
Find out How You Can Become a Substance Abuse Counselor in New Mexico

Join us for a free introductory, educational session and get started on becoming a Substance Abuse Counselor. Everyone is welcome to attend. No approval or prerequisite required.
Download How to Become an Addiction Counselor Flyer
Sessions are offered at the UNM Continuing Education Campus, 1634 University Blvd. NE, Albuquerque, NM 87102.

To RSVP: Complete this online form or email or call the Program Supervisor at (505) 277-6025 at least one day prior to the session.
---
Office Hours

The growing need to get an individual plan of action is evident from those attending our previous How to Become an Addiction Counselor in New Mexico sessions. Giving you time to talk with those who can help you in making decisions is our goal in opening Office Hours. You will have a 15 minute individual meeting with a Substance Abuse Studies instructor or other knowledgeable advisor to do a "Quick Glance" transcript review. If the recommendations are for further courses at the undergraduate or graduate level, you will need to contact that institution for additional advisement and admissions.

UNM Continuing Education provides approved training to meet professional training in alcohol, drug abuse and counseling/addiction. After you have researched the options to meet your goals, you may be ready to take our weekend courses in addition to any other courses or training you choose to pursue.

NMCTPB rules and law for Addiction Counseling Licenses

By appointment – 15 minutes openings – offered monthly
Please bring your transcripts (unofficial or official) for your meeting.
Download the Checklist for Advisement and fill out information you can supply. Bring this form with you.
For your convenience, a staggered schedule has been created so that people can be assisted in a timely manner. It will be important to arrive on time or slightly early.
It may be helpful to make a written list of question you may have prior to coming to Office Hours.
Download Substance Abuse Series 2018-2019 Flyer
Download the Substance Abuse Program Approval Process
---
Upcoming Programs
Class Name

Review the content for the CADAC and LADAC exams, and be ready for test day! This class provides exam content outlines and review four content sections, including counseling practices and skills (12 core functions), theoretical basis of counseling, professional considerations (cultural competency and ethics) and pharmacology. Recommended textbook: Getting Ready To Test: A Review and Preparation Manual for Drug and Alcohol Credentialing Exams (8th Edition) from Distance Learning Center, LLC at https://www.dlcllc.shop/collections/readytotest-com-study-guides

Course Number: 39310 | Cost: TBA

TBA

TBA
Substance Abuse Studies Series 2018-2019
Prerequisites for Enrollment in the 2018-2019 Series

Due to the intensity and nature of our program, we request that those in recovery have been sober for a minimum of one year before seeing admission. Some may find it more helpful to have two or more years in recovery. Please note that the courses are not intended as part of a recovery program to support participant sobriety or as a replacement for therapy.

Education requirement for program approval is an Associate Degree in any field or higher. For New Mexico Licensure, the NM Counseling and Therapy Practice Board requires a degree in counseling or a counseling related field. Please check the requirements on their website.

All classes are held Saturdays and Sundays, 8:30am-5:30pm at UNM Continuing Education.

Download Substance Abuse Series 2018-2019 Flyer
---
Registration for weekend SASTP classes closes five days before the class start date at 5 PM on Monday. Registration for series courses is done by phone (505) 277-0077, fax and mail or in person. No online registration. More information on registering for UNMCE classes.
---
Understanding Addiction Counseling (Professional Training Foundation)
Addiction Counseling Core Knowledge (Professional Training Core)
Principles and Practices for Addiction Counseling (Professional Training Principles)
Addiction Counseling for Diverse Populations (Community-based Professional Training)
---
Tuition Assistance
Tuition Assistance may be available if you are unemployed, a veteran or veteran's spouse, or a person with a disability. Other options include education loans. For more funding options, and contact information, please visit our Loans and Financial Aid page.
---
UNM Tuition Remission
UNM Staff, Faculty and Retirees: You may use your Tuition Remission for all Professional Development classes.